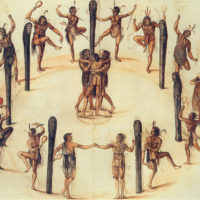 Throughout the United States, there are 566 Native American and Alaska Native tribes that are recognized by the federal government. Each tribe has its own unique culture, its own cuisine, its own housing style and its own dress. While tribes that are recognized by the federal government vary in population size and location, each is considered a sovereign nation. Each of these nations has its own distinct relationship with the United States.
Plagued by disease and war, much of the Native American population was wiped out by European explorers. But today, Native culture is experiencing a renaissance, with tribes celebrating their traditions and ways.
A War On Culture
Before Europeans arrived in the Americas, Native American tribes were self-governing, and they had been living this way for hundreds of years. Each tribe developed its own methods for teaching their youth and governing their own communities.
Their methods of self-governance were so effective that the U.S. government's roots can be found in the principles shared by the Iroquois Confederacy.
Unfortunately, Europeans shattered many tribes in their conquest to take over land and resources. Native Americans were forced to relocate from their homelands as a result. Warfare, disease and broken treaties ripped Native communities apart. Many were completely wiped out.
The horrific "Indian Wars" of the 18th and 19th centuries and attacks on Native culture from the U.S. government caused many tribes to lose their lands. Most Native Americans were forced to relocate from the land of their ancestors, where they had been living for hundreds of years, to reservations.
Reservation lands are just a fraction of the size of the lands and natural resources that were stolen from the Native community.
Tribes were split, many forced to integrate with enemy tribes, and moved to reservations that were far from their sacred lands and homes.
Until 1978, Native Americans were prohibited from practicing their ceremonies and religion. The American Indian Religious Freedom Act once again allowed the Native community to practice their traditions, ceremonies and rituals. In 1994, the law was amended to allow the use of peyote during ceremonies. Until 1990, many tribes lost complete control of their human remains and ceremonial items.
The Boarding School Era, which lasted from the 1800s through the middle 1900s, forced Native children from their homes. The U.S. government forced children from Native communities into Christian boarding schools, oftentimes hundreds of miles from their families. Children faced harsh punishment for speaking their language or practicing their traditions. It wasn't uncommon for kids to die from disease or malnourishment. Those who managed to survive were completely disconnected for their ways and their families.
Many descendants of Natives lost their language and traditions as a result of the Boarding School Era.
Today, many tribes are reviving their cultures and their way of living. Language and ceremony are at the heart of the renaissance. Many tribes are creating programs to teach their languages and dialects. Radio stations are broadcasting in Native languages, powwows are being held across the country, and ceremonies are returning.